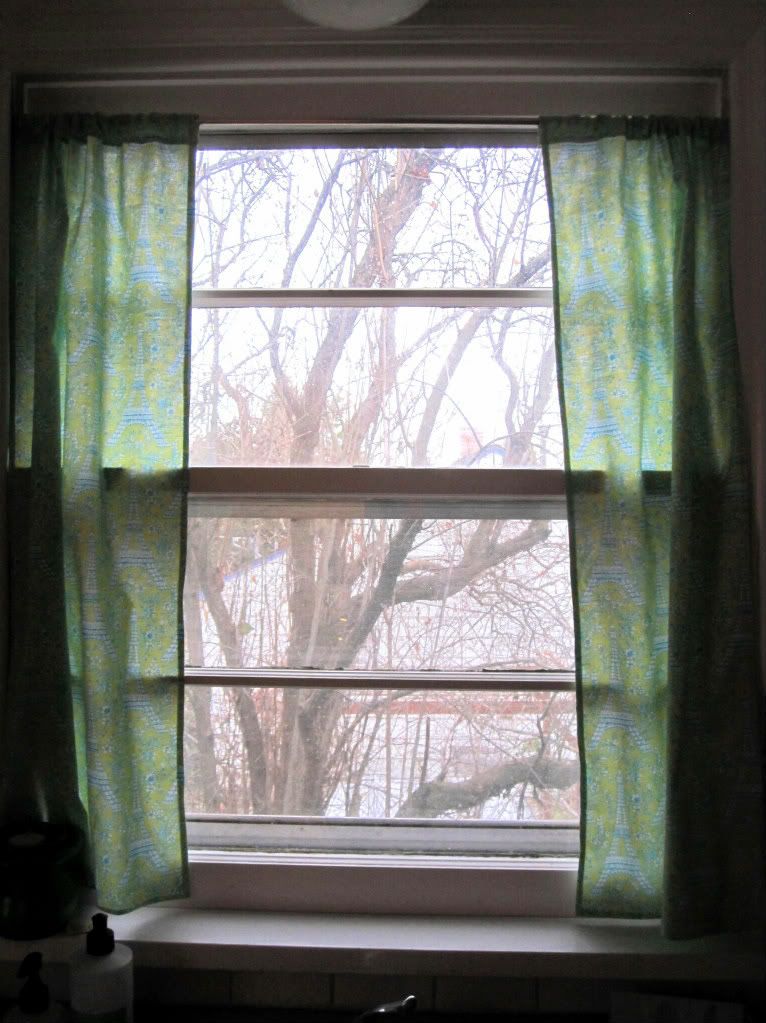 My sister is on her way to my house right now! It's just a 3 1/2 hour drive, so I'm all giddy and doing things I shouldn't be doing, like sewing new kitchen curtains.
But, my sis is driving here under different life conditions than the last time she made the voyage and this afternoon, after attempting to make flavored creamer for her, planning a fun dinner and breakfast for her and the boys, getting the beds and hide-a-bed ready I still had creative energy to burn on her behalf. She is where all my thoughts and prayers have been turning in spare moments, so I decided to sew these curtains for her to enjoy while she's here.
Because the Eiffel tower is kind of our symbol. When she was about to graduate from college, we saved our money, packed up our walking shoes and power bars and went to France for a week. We walked all the way from our hostel to the Eiffel Tower because we were too cheap to pay for a bus and we like to walk. It was an epic walk, but it made our viewing of the tower all the more glorious for the miles we had put in to see it up close.
On this trip we had another epic walk that I like to think sums up our love for each other. We were in Nice and there was a Matisse museum a long (again) uphill walk from where we were staying and on the way it started to dump rain on us. As in, when we got there our underwear were wet. Well, it wasn't the most fun walk and once we got there we were trying to dab some of the water off of ourselves in the bathroom before traipsing through the museum. Somehow one of us said something like, "Well, I hope you really enjoy this!" (without snark) and we realized that each of us had been trudging up that hill in the rain for the other one. I thought she REALLY wanted to see the museum and she thought I REALLY wanted to see it. So, we had both suffered a severe drenching in silence, out of love. We laughed and both enjoyed the museum, leaving puddles everywhere we went.
Lately, I've been praying and crying on my sweet sister's behalf and my big sister heart so badly wants to fix what's gone awry. But, sadly, I'm inadequate to the task. I can't fix anything, but I can love her fiercely and do silly things with that love, like sew these cheery curtains for her to enjoy while she's here. And, to have them as a happy reminder to pray for her without ceasing, whenever I see these little curtains.
I love you so, HeatherB!